……. That the Pawnee City Public Library is part of a state-wide network of libraries:
♦  8,213,065 Nebraskans visited those libraries in 2014.  That's over 92 sellouts at Memorial Stadium! 
♦ Technology is everywhere at Nebraska Public Libraries — Library computers were used 2,088,052 times; 95% of Nebraska Libraries offer FREE wifi and 64% of libraries currently offer ebooks and audiobooks. Your Pawnee City Public Library has computer stations; offers wifi & ebooks/audiobooks.
……..That the Pawnee City Library is building a "Pawnee City School Annual Collection"?  They are needing help finding some missing years. If you or anyone you know have annuals from 1921, 1922,
1923, 1925, 1927, 1928, 1929, 1933, 1934, 1935, 1936, 1937, 1938, 1986, 1987, 1989, 2003, 2004, & 2012 that you (they) would be willing to donate to the library, your donation would be appreciated.

….. is a browser-based eBook reader that works on most computers, tablets, and mobile devices running web browsers with HTML5 support. There are thousands of Ebooks, videos, and audiobooks to be barrowed.  Nebraska EReads helps more than 170 public libraries work together to loan eBooks and downloadable audiobooks to Nebraskans.
To get started, go to your library and sign up for an active library card, then go to OverDrive and borrow an eBook that's available in OverDrive from your library's OverDrive website. If you are uncertain how this works the Librarians at your local library will be glad to help you.
Borrowing – You can borrow up to 6 titles at a time. The lending period may vary from title to title. You will need an active library card to borrow titles from this library.
….. That the library has a group of individuals (The Community Crafts & Hobbies Circle) who meet on the 1st & 3rd Monday from 1:30-3:30 pm to share their love of handcrafts, art, and/or hobbies.  New members are always welcome.  Any hobby/craft/art that is portable is welcome.  Come in and learn how to do a new project, or teach your favorite thing to an interested individual, or just spend a couple hours visiting and enjoying.
 …..the Pawnee City Library has a table where they have a "Community Puzzle" laid out.  Anyone from the community
can come on in and find and place a single piece or plan on spending some time finding and placing several pieces.  Once the current puzzle is completed another one is put out to be worked on.
……. Now that you've learned all about the States in the United States — this collection of books will teach you about other counties!
…….. That this lovely patriotic picture is actually the spines of 52 books?  Each book contains wonderful pictures and facts about our 50 States, Puerto Rico and Washington D.C.  Come into the library and take a look.  Learn more about the States that make up our great country.
……..that the library has a "cozy corner" with a comfortable couch & chairs.  You've checked out your books and/or other material but are not ready to go home yet or just want to visit with friends for a while, make use of the cozy corner, get a hot drink — coffee, tea, cider, chocolate — from the Keurig brewing center, donated by Wilma Droge & Betty Ganzel, and relax for awhile.  The library just asks if you would place a donation in the "coffee jar" to help them keep plenty of drink materials on-hand.
…….. that as well as the DVDs the Library has a nice collection VHS video tapes??  Could this be a place to get tapes for that VHS player you have at home?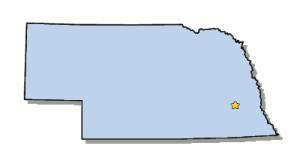 ……..That the Pawnee City Public Library has a great collection on Nebraska (Nebraska Non-Fiction, Nebraska Reference & Nebraska Authors).  Come on in and learn more about our great state.
……..That the Pawnee City Library has a nice computer center containing 12 desktop computers and 3 laptops (to be used inside the Library).  Come in — sign in.  Students can use them for research, visitors can check their email accounts, and everyone can use them for surfing the internet.  After finding what you are looking for you can print out your information to take home.  The first black & white copy is free, any additional copies are 10 cents each.  Color copies are 25 cents each with no copies free.  They are also a WiFi Hot Spot that allows you to use your own laptop
…….That the Pawnee City Library catalog shows 1400+ DVDs for check out?      It would be fun to plan a family movie night and check out some of those DVDs!!
……. That if you are looking at your Genealogy?  The Pawnee City Librarians will help you conduct a search of their records.  There is a fee of $5.00 per name and if you want to get your results (if any) you need to supply them with a self-addressed, stamped envelope.
……..That the Library has 75 Children's totes with more than 3300 books.  Topics include: Alphabet, African American, Airplanes & Things that Fly, Art, Bears, Birds, Bugs, Bunnies, Cats, Christmas, Church, Comic Book Heros, Crafts, Dinosaurs, Disney, Dog, Dress up, Earth, Easter, Easy Reader, Fairy Tales & Fables, Family, Food, Forest Animals, Friends, Frontier, Halloween, Health, Hero, Horse, I Spy, Magic & Games, Mice, Monsters, Moon & Stars, Naptime, Native American, No Words, Numbers, Ocean Life, Penguins, Pirates, Planets & Space, Sad, School, Science, Seasons, Song & Dance, Sports, Thanksgiving, Trains, Weather, Western & Cowboy, Winter.
Bring your child out to the library to browse for something that interests them.
……..that the library has 164+ cake pans to check out.  Go look and see if they have that special pan you are needing for that special occasion!!!
If you have a theme cake pan (that is in very good condition) you no longer use the library will be glad to accept the donation.
……..NebraskAccess offers 24/7 access to websites selected by librarians, ful-text government publications and Nebraska historical resources.  Nebraska residents also gain online access to premium databases, with thousands of full-text magazine, journal and newspaper articles; health; legal; and business information; genealogical resources; and more.